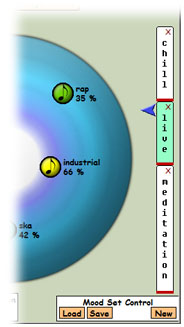 The feature of Mood Sets was added in version 2.1.0. This allows you to have part of your mix consist of multiple sets of genres (moods, defined by the mood ring)

In the example shown here, the 2nd Mood Set ("Lively") is selected, so the genre dots on the mood ring correspond to that set.

The set on the top is the first set to be used, the next one down will be the 2nd set to be used, the 3rd will be the 3rd set to be used, etc...

You can click and drag the red bar between sets to expand or contract the size of the set, this determines (while filling with random) how much of your mix will contain songs of that mood before Song Mixer advances to the next set.